Research
SEWAT – Real-time parameters for microbiological and chemo-physical water quality monitoring in mobile drinking water treatment systems
Duration: 2023–2025
Funding body: Österreichische Forschungsförderungsgesellschaft (FFG), Bundesministerium für Finanzen (BMF)
Project lead: Georg Reischer, Alexander Kirschner, Lena Campostrini
Project description
Investigating the interaction of ionic liquids with fungal and bacterial cell envelopes, proteins and nucleic acids
Duration: 2022 - 2025
Funding Body: GFF-Gesellschaft für Forschungsförderung Niederösterreich
Project Lead: Georg Reischer, Johanna Kreuter
Project description
Faterisk Aqua - Occurrence of per- and polyfluorinated chemicals (PFC) in the urban water cycle
Duration: 2021–2024
Funding body: Wiener Wissenschafts-, Forschungs- und Technologiefonds (WWTF)
Project Lead: Julia Derx, Alfred Paul Blaschke
Project description
HydroChip – Roll-to-roll produced "lab-on-foil" system with functional hydrogels for on-chip detection of pathogens
Duration: 2021–2024
Funding body: Österreichische Forschungsförderungsgesellschaft (FFG)
Project Lead: Georg Reischer
Project description
ViWa 2020+ – Vienna Water Resource Systems 2020+
Duration: 2021–2029
Funding body: MA 31, Stadt Wien
Project Lead: Andreas Farnleitner, Alfred Paul Blaschke, Regina Sommer, Alexander Kirschner
Project description
FUTURE DANUBE - Predicting future trends in the health related microbiological water quality of rivers in a vastly changing world
Duration: 2021–2024
Funding body: NÖ Gesellschaft für Forschungsförderung (GFF)
Project Lead: Andreas Farnleitner, Alexander Kirschner
Project description
RIVAR – A quantitative concept to study human-derived antibiotic resistance in rivers along the human wastewater path
Duration: 2020–2023
Funding body: NÖ Forschungs- und Bildungsges.m.b.H. (NFB)
Project Lead: Alexander Kirschner, Andreas Farnleitner
Project description
SwimCity: The impact of floods and storm events on short-term variations of water quality in urban recreational surface waters
Duration: 2020
Funding body: Österreichische Akademie der Wissenschaften (ÖAW, Jubiläumsfonds der Stadt Wien)
Project Lead: Sílvia Cervero-Aragó, Julia Derx
Project description
Fecal pollution routes of antibiotic resistance along the whole Danube River
Duration: 2019–2023
Funding body: Austrian Science Fund (FWF, Project No. P32464)
Contact: Alexander Kirschner, Andreas Farnleitner
Project description
MULTISENSE AQUA – Automated Online Flow Cytometry for Real-time Monitoring of Bacteria and Particles in Drinking Water
Duration: 2019–2022
Funding body: EU/EUROSTARS, Austrian Research Promotion Agency (FFG)
Contact: Alexander Kirschner, Andreas Farnleitner, Rita Linke
Project description
Monitoring the faecal input situation for the Lower Austrian Danube using E. coli
Duration: 2019–2021
Funding body: Amt der NÖ Landesregierung – Gruppe Wasser
Contact: Andreas Farnleitner, Alexander Kirschner
Project description
triboREMEDY – Breakthrough remediation strategy for safeguarding human and environmental health
Duration: 2019–2022
Funding body: EUROPEAN COMMISSION, Research Executive Agency
Grant Agreement number: 829047 – triboREMEDY – H2020-FETOPEN-2018-2020/H2020
Contact: Regina Sommer, Sílvia Cervero-Aragó
Project description
Vibrio cholerae
Duration: 2019–2021
Funding body: NÖ Forschungs- und Bildungsges.m.b.H. (NFB)
Contact: Alexander Kirschner, Julia Vierheilig
Project description
The impact of Giardia spp. as a reference pathogen in urban water systems
Duration: 2018–2021
Funding body: Wiener Wissenschafts-, Forschungs- und Technologiefonds (WWTF)
Contact: Sílvia Cervero-Aragó, Julia Derx
Project description
REEgain – Sustainable biological recycling of environmentally hazardous substances (rare earth elements) from electronic waste and wastewater
Duration: 2018–2022
Funding body: Interreg – Europäischer Fonds für regionale Entwicklung
Contact: Andreas Farnleitner
Project description
Protozoan mimics – Review of new substitute substances for protozoa
Duration: 2018–2021
Funding body: Fonds zur Förderung der Wissenschaftlichen Forschung (FWF)
Contact: Margaret Stevenson, Alfred Paul Blaschke
Project description
FWF DKplus Doctoral College "Water Resource Systems"
Duration: 2009–2021
Funding body: FWF
Contact: Günter Blöschl (head), Andreas Farnleitner (Subject area head "Water and Health)
Project description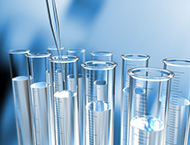 The interest and basic competence of ICC Water & Health are defined by the full range of water & health issues that reflect microbiological, chemical, toxicological and esthetic aspects of water quality. However, the main research focuses are currently concerned with the microbiological aspects of water quality.

Our publishing activities are aimed at the compilation of international quality-assured scientific publications (peer reviews) as well as publication in German-language media specializing in practical use.

Moreover, we collaborate in the preparation of standards and rules at the national and international levels.
---